Ice, is a kind of ice sculpture as the main material for the art form. As with other materials, sculptures, ice carvings are divided, three kinds of relief, and openwork. Ice sculptures sculpture and other materials, like, pay attention to tools, surface treatment, marks carved signs, but because of its material colorless, transparent, light refraction effect, so carving out a three-dimensional image is not strong, the image not clear. To compensate for this deficiency, the modeling techniques used stone and wood carving, emphasizing a decent relationship, highlighting the basic features of shape, and strive to cut, on this basis, carved or engraved on both sides to implement, so that lines intersect each other, carving marks aspect staggered, in the light reflex, the utmost exquisitely carved, to obtains the hyperopia, myopia superb viewing.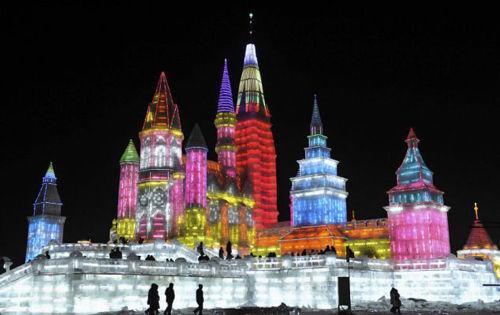 Beautiful ice sculpture
In China, the development of Northeast is the best in the ice, one of the most famous is the ice city of Harbin ice sculpture exhibition. Every year a considerable number of tourists to visit, but a large scale year after year, not only become more participating artists and the theme of ice to carve become more abundant, useful, decorative ice sculptures of modern laser technology, Ice the most traditional of course no less. The Northeast cold weather, and ice readily available, so the volume of sculpture has become more and more, into a veritable ice sculpture was building the world, such as walls, slip ladder and so on. Harbin, Urumqi, and also the international ice sculpture competition held in major cities.